Working Conditions in the Fast Fashion Industry
By Maggie Herrera
It is becoming common knowledge that the working conditions for garment workers—particularly in Asia—are notoriously poor. With recent tragedies such as the 2013 Rana Plaza collapse, workers' rights and safety are becoming more commonplace in discussions when considering sustainable purchases of goods and services, especially garments.
Garment workers in Dhaka, Bangladesh 
Source:  Xihua News Agency via Getty Images
Garment workers on average face a multitude of violations beyond working 14—16 hours a day, seven days a week with little pay.
Toxic Chemicals
Mass production of garments includes the use of large quantities of chemicals in the stage known as 'wet processing'—finishing the fabrics (dyeing, preparation, printing, etc.). 
Azo dyes are a common example of potentially harmful products used in the mass production of garments. They are synthetic dyes used in a variety of consumer goods including food, cosmetics, clothing, and textiles. These dyes can break down to form aromatic amines, which are suspected carcinogens. This is one example of many potential dangers that garment workers are exposed to during wet processing.
This process is notorious in exposing garment workers—and subsequently consumers—to both known and possible carcinogens and other toxic materials. This stage is also notorious for chemical and dye runoff, polluting large bodies of water.

Workers in a dyeing factory in the Bangaldesh capital Dhaka in February 2016.
Credit:Mohammad Ponir Hossain/NurPhoto/Getty Images
Polyester textiles are known to rely on chemicals (i.e., antimony, cadmium, lead, etc.) that can cause a slew of health concerns, such as cancer. Garment workers are exposed to these chemicals daily and are never properly informed or given protection to reduce exposure. 
Poor Working Environments
Poor ventilation, crowded factory floors, verbal, sexual, and physical abuse by superiors to meet daily quotas, child labor and forced labor are some of the many violations that garment workers face on a regular basis.
Among fire and structural concerns, which were gaining coverage surrounding the Rana Plaza collapse in Bangladesh, workers also faced working days without pay, and factories were falling into disrepair without proper inspections or evacuations.
"Verbal harassment is a feature of this job…supervisors call you a '[expletive],' 'moron,' 'idiot' if you do not make your targets." 
--Smita, a factory worker in Tamil Nadu
Women garment workers are disproportionately affected by this violence and harassment, experiencing personal restrictions, and withholding of pay among other abuses from supervisors.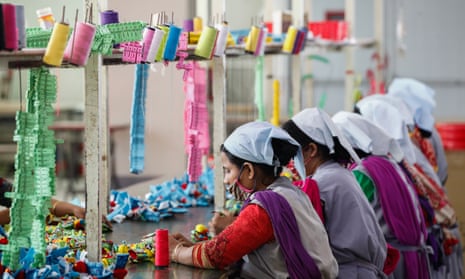 Women garment workers located on the outskirts of Dhaka, Bangladesh
Source: NurPhoto via Getty Images
"Women who provide sexual favors to managers and supervisors…are rewarded. They get away with lower production targets, can take more leaves, and are not subjected to verbal harassment." 
--Suneeta, a factory worker in Tamil Nadu
Children are also subjected to these poor conditions, with the International Labor Organization (ILO) estimating 170 million children are engaged in child labor between 2000 and 2012. Though child labor is illegal in most countries, it still is a common issue that is rife in many poor countries.
Child workers transporting raw materials from fields.
Labor needed for garment industries often requires low skill, which is why children and forced labor sources are the easiest to cheaply recruit garment workers.
The ILO reported in 2016 that an estimated 152 million children (aged between 5 and 17) were subjected to child labor. Women and girls accounted for 29 million, or 71% of the overall total of those impacted by modern slavery, with 25 million of the 40 million victims of modern slavery, being in forced labor.
Union Restrictions
Workers who are trying to unionize and have their voices heard are silenced by government laws and regulations that prevent union formation, and often factory managers threaten workers' lives, employment, and safety.
Union busting is a common practice to prevent or disrupt the formation of worker's unions. Most recently, brands have been using the COVID-19 pandemic to dismiss workers when faced with pushback for safety precautions to limit cases.
From working conditions to union restrictions, garment workers from around the world face challenges, especially those under the grip of the fast fashion industry. Though their production is high, their morals and ethics crumble once the secrets of how garment workers are truly treated is revealed and the dangers it poses to the planet.